Software systems today are the lifeline of most organizations. Today more than ever management needs more visibility into development and maintenance of these critical systems. Measurement is the key. A reliable size estimate is the first step. Understanding the size of a system is the foundation for more reliable estimates, improved visibility and control of system changes, measurement of productivity, and ensuring control and accountability of outsourced work.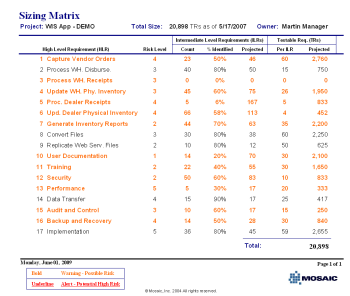 Despite their significant and well documented problems, Lines of Code (LOC) and Function Points (FP) have long been the only standard measures of size. Now there is a better way to size systems.
Mosaic has pioneered a more practical and intuitive measure of size - testable requirements. Requirements are the capabilities necessary for a system to meet its objectives. Testable requirements are requirements that are precise, unambiguous, and not divisible into lower level requirements. Count up the number of testable requirements and you have a reliable measure of the size of a system.
Don't have detailed requirements specified? TR Sizer™ is designed to help you estimate the size of the system - even when the requirements are not documented. And it highlights priorities for clarifying requirements.
Key Benefits
TR Sizer™ facilitates a process to estimate the size of the system in terms of testable requirements. This process enables a reliable sizing of the system as early as the initiation of a project with no dependency on the level of documented requirements. A testable requirements size measure provides many benefits. With a testable requirements size measure you can: