MSTAR®
Mosaic's Structured Testing and Assessment Repository
Our Field-Proven Risk-Based Test Methodology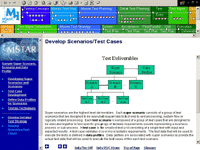 Testing is a costly part of any development effort and can easily account for half of the development costs. Defects that make it into production can cost more than the entire development budget.
Mosaic's testing methodology, MSTAR®, addresses both the high cost of testing and the risk of production failures with a risk-based testing process that emphasizes reuse of both the tests and the test data. MSTAR® improves the efficiency of the testing effort and maximizes the test team's ability to identify defects early enough so they do not become production failures.
Mosaic's testing methodology is the most advanced in the industry. It has been field-proven on mainframe, client/server, PC and Web systems, and is applicable to custom developed systems, package implementations, and out-sourced development. An intranet-based repository of testing expertise, MSTAR® incorporates comprehensive guidelines, samples and templates for implementing a proven testing process into a readily accessible format.
MSTAR® also provides a solid foundation for test automation - including performance testing. Test automation is an integral part of MSTAR®. While MSTAR® is not a test automation tool, it complements test automation tools with a process and architecture components that overcome many of the traditional problems with test automation, enabling the full benefits of the automation tools to be realized.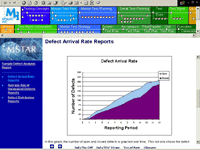 The MSTAR® repository is also integrated with additional repositories that allow a company to add their own best practices and project deliverables. For example, users can access guidelines and samples for creating a test automation strategy in the main MSTAR® repository, and then move to their company best practices repository to obtain their company's best practices in test automation. Alternatively, users can access a project deliverable repository to locate the plans, standards, requirements, test plans and scripts associated with their specific project. This provides a centralized location for accessing all testing best practices and all project deliverables needed to support those practices.
MSTAR® is a vital tool for all the project team testers:
The developers responsible for unit testing,
The system testers responsible for verification of the integrated system,
The performance testers responsible for verification of system performance,
The test automation engineers responsible for automating the testing,
The users responsible for acceptance testing and
The implementation team responsible for the final pilot and/or parallel test of the system.
For more information, download a free preview presentation on MSTAR®. The presentation is a self-running PowerPoint presentation but it provides arrows to allow the user to control movement between slides. The presentation provides an overview of MSTAR®'s features and it includes screen shots from the MSTAR® repository. Request download.